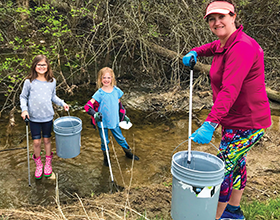 Rally your family and neighbors to spruce up your neighborhood park this spring!
Get to know your neighbors and show your community pride! Complete a checklist of tasks on one day during National Volunteer Week (Sunday, April 19 – Saturday, April 25) and your team will have a chance to win a free movie party for your park on May 29 or 30. The party will include free popcorn and treats! You will have a list of six movies to select from for your party!
Each person who shows up and works during your Spring Spruce Up is another entry in the drawing for the free movie night! In addition, every participant will receive a free t-shirt!
Please only register one point person for your team. If more than one point person registers, the first person to register will be appointed the team leader. You will specify your park during registration. Team leaders will select the date of the Spruce Up. In the event of inclement weather, you may select an alternate date during National Volunteer Week. It is a good idea to have a rain date in mind when selecting your event date.
The following parks are eligible for the Spring Spruce Up:
Activity Center
Beechwood Springs
Big Bend
Bill Yeck (Parkhaven Entrance)
Black Oak
Brittany Hills
Cherry Hill
Concept
Divided Ridge
Donnybrook
Elizabeth Hoy
Fence Row
Forest Field
Forest Walk
Grant (Grant's Trail)
Green
Greene Line
Hithergreen
Iron Horse
Little Mound
Manor
Oak Creek South
Oak Grove
Old Lane
Pelbrook
Pleasant Hill
Quail Run
Rahn
Red Coach
Robert F. Mays
Rosewood
Schoolhouse
Stansel
Stringtown
Village South
Wagon Trail
Waterbury Woods
Watkins Glen
Weatherstone
Willowbrook
Yankee