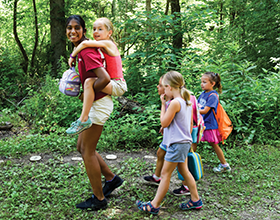 Simran is a senior at Centerville High School. At school she participates in Science Olympiad — growing her love of science with her friends. She is also involved in Student Council and has had the opportunity to raise thousands of dollars for charities in our community.
Simran loves being out in nature and hiking, especially with her dog. To her, reading a good book or painting on a rainy day is heaven.
Simran says, "I love volunteering for CWPD because I get to know so many people and my community so much better. Hidden Meadows Day Camp is one of the best things I've had the opportunity to be in, and I love playing with the kids. Volunteering has allowed to me to create great memories … and I can't wait to make more!"
We would like to thank Simran, and all of our volunteers, for giving their time and talents to our community. If you are interested in becoming a volunteer please contact Community Engagement Coordinator Ginger Clark at 937-433-5155 or gclark@cwpd.org.