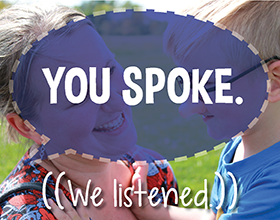 Your Centerville-Washington Park District is serious about providing the park and recreation opportunities you want! CWPD perpetually seeks resident and stakeholder input to build strategic plans, master plans, programming plans, capital improvements plans and budgets. This allows us to align resources with community priorities.
Our most recent Community Needs Assessment was conducted in 2022 — and in 2019 before that! Resident feedback generates great ideas and opinions, and we would like to share the many improvements that are a direct result of your input. So, every two weeks from July to November, we will post a short message about what's been added, fixed, improved or expanded to meet your requests!
Community Events up 100%
Large-scale community events always receive a high priority ranking on Park District surveys. Staff have taken that to heart, and over the past two years, we have increased special event offerings by 100%! We went from offering 18 community events in 2021 to 36 in both 2022 and 2023, which equates to serving thousands of residents with expanded opportunities to enjoy their parks with family and friends!
Fall is our busiest special event season and we have lots of great events heading your way! We hope to see you at one, or more, of them!
To explore more, visit our upcoming events calendar.
The Park District is fortunate to have forged many wonderful partnerships and sponsorships with local clubs, organizations and businesses, which greatly enrich these FREE events for the benefit of the community.
We are proud to deliver so many opportunities for you to spend quality outdoor time with family and friends of all ages. If you have an idea for a community event, don't keep it to yourself, let us know about it! Maybe we can make it happen!
Previous installments of You Spoke, We Listened: