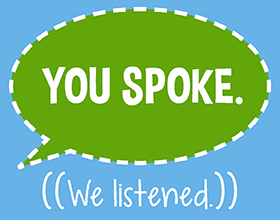 Your Centerville-Washington Park District is serious about providing the park and recreation opportunities you want! CWPD perpetually seeks resident and stakeholder input to build strategic plans, master plans, programming plans, capital improvements plans and budgets. This allows us to align resources with community priorities.
Our most recent Community Needs Assessment was conducted in 2022 — and in 2019 before that! Resident feedback generates great ideas and opinions, and we would like to share the many improvements that are a direct result of your input. So, every two weeks from July to November, we will post a short message about what's been added, fixed, improved or expanded to meet your requests!
Throwing Shade…the Good Kind!
Shade trees and shade structures have become a reoccurring request on Park District input surveys. In fact, they are in the top ten investment priorities requested by residents. Therefore, we have been intentional about adding hundreds of shade trees and several shade structures to your parks. Over the past 5 years, staff have planted 796 trees around the Park District! Not only does this enhance the visitor experience with more opportunities to relax in the cool shade, but it also provides habitat for wildlife, improves water quality, and aids in the reforestation efforts related to the loss of thousands of ash trees from the emerald ash borer.
Over the past two years, we have enjoyed partnering with the City of Centerville to plant dozens of beautiful Red horse chestnuts in parks located within the City. The blooms are a welcome sight in spring, along with the shade they provide during the hotter months.
Over this same time period, shade structures were installed at Yankee, Forest Field, Hithergreen and Bill Yeck Parks. Next year's budget will include allocations for additional shade trees and shade structures.
Thank you for your input. It is only with resident input and feedback that the Park District can put resources where it is most important to you. Keep your suggestions coming!