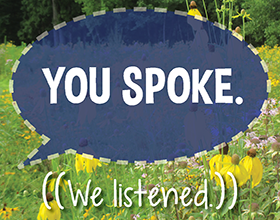 Your Centerville-Washington Park District is serious about providing the park and recreation opportunities you want! CWPD perpetually seeks resident and stakeholder input to build strategic plans, master plans, programming plans, capital improvements plans and budgets. This allows us to align resources with community priorities.
Our most recent Community Needs Assessment was conducted in 2022 — and in 2019 before that! Resident feedback generates great ideas and opinions, and we would like to share the many improvements that are a direct result of your input. So, every two weeks from July to November, we will post a short message about what's been added, fixed, improved or expanded to meet your requests!
Conserving Habitats and Ecosystems
We have the unique privilege of conserving habitats and ecosystems right here in the suburbs of Dayton. We are happy to report that 88% of our residents support conservation activities by the Park District! A good thing, because environmental responsibility is one of our five core values!
CWPD staff created a Land Stewardship Team who work to accomplish best practices in land management — including invasive species control, enhancing pollinator habitats, promoting healthy forests and carrying out streambank and wetland restoration.
Invasive species can be prolific and take over, causing a loss of diversity in the natural landscape. Controlling invasive species like honeysuckle, multi-flora rose, garlic mustard or pear trees, for example, is responsible land stewardship — it allows people of all ages the chance to experience what makes our community and region unique as far as the biological diversity that can exist in healthy natural habitats.
Through a combination of staff, volunteers, partnerships with universities and contracted experts, there are countless conservation projects happening in your parks every season. This summer we are completing streambank restoration projects along Hole's Creek at Grant Park. The Teen Conservation Crew is participating in a camera trap survey to monitor for amphibians at Bill Yeck Park. Residents are taking on the role of citizen scientists by participating in monthly butterfly surveys and nestbox monitoring. And, in an effort to provide access to nature while also reducing erosion and habitat impact, staff have worked with trail-building experts to create sustainable trails at Bill Yeck Park.
Thank you for your input. It is only with resident input and feedback that the Park District can put resources where it is most important to you. Keep your suggestions coming!
Previous installments of You Spoke, We Listened: