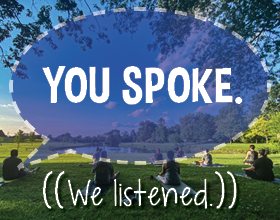 Your Centerville-Washington Park District is serious about providing the park and recreation opportunities you want! CWPD perpetually seeks resident and stakeholder input to build strategic plans, master plans, programming plans, capital improvements plans and budgets. This allows us to align resources with community priorities.
Our most recent Community Needs Assessment was conducted in 2022 — and in 2019 before that! Resident feedback generates great ideas and opinions, and we would like to share the many improvements that are a direct result of your input. So, every two weeks from July to November, we will post a short message about what's been added, fixed, improved or expanded to meet your requests!
Parks Build Healthy Communities
At the Park District, we know parks help build healthy communities by providing opportunities to improve the physical and mental health of citizens. It turns out residents know the same! In fact, adult fitness and wellness programming had the highest priority investment ranking in our most recent community survey.
We have increased fitness and wellness program partnerships by 91% since 2020, and we also added 62 new fitness and wellness offerings over the past 18 months! The programs are diverse and include fitness special events, new pickleball leagues, ACtivity Squad summer day camps, community bike rides, archery and much more. The majority of these programs take place outdoors, allowing for a significant impact on both the physical and mental health of participants.
Strategic partnerships are vital to reaching more residents with FREE fitness and wellness programming. Over the past year, 20% of the fitness and wellness offerings were free to residents. Forging intentional partnerships has resulted in increased reach in the community. Working with our partners, such as Dayton Children's Hospital and Bike Centerville, we have increased fitness and wellness enrollment by 107% from 2021 to 2022—from 1,151 participants to 2,394!
Check our upcoming events calendar to find a fitness and wellness offering that works for you!
Thank you for your input. It is only with resident input and feedback that the Park District can put resources where it is most important to you. Keep your suggestions coming!
Previous installments of You Spoke, We Listened: