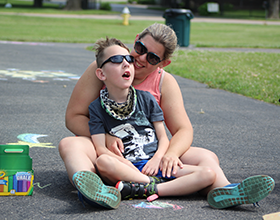 Those differently-abled or with special needs (and families) are invited to network with other families while enjoying recreational activities for all ages!
Participate in archery, kickball, fishing, tennis, sidewalk chalk, adapted biking, an inclusion tent, lawn games and crafts! Kona Ice will be on-site for a cool treat.
AIM for the Handicapped, Montgomery County Board of Developmental Disabilities Services, South Dayton TOP Soccer, Synergy Family Therapy, Washington-Centerville Public Library and Washington Township RecPlex will all be on hand for the 5th annual Adapted Action Day at Oak Grove Park on Saturday, September 16 from 10 a.m. to 1 p.m.!
Registration is not required but does help for planning purposes.
In addition, we would like to invite you to attend an inclusion focus group. Please share your suggestions with us! We want to hear about your park experiences. Help us continue to promote inclusion and accessibility for all at your Centerville-Washington Park District parks and programs! Anyone in the community is welcome to attend.
Tuesday, September 19
6:30 – 7:30 p.m.
Activity Center Park, Community Room
221 N. Main St., Centerville
If the date and time don't work for you, but you have feedback to share, please RSVP and we will email you questions to answer as your schedule allows!
As a thank you, all participants will receive a $15 household credit for future park programs. (One credit per household.)