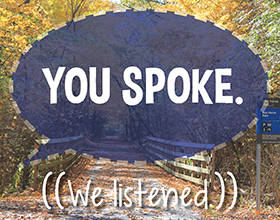 Your Centerville-Washington Park Board is serious about providing the park and recreation opportunities you want. In 2015, a large sampling of residents provided us with lots of great feedback. Then in late 2016, we conducted another survey to get more of your ideas and opinions. We supplemented the survey with citizen interviews, focus groups and public meetings. Thank you to everyone who participated!
We would like to share the many improvements that are a direct result of your input. So, every two weeks for the remainder of the year we will be posting a short message about what's been added, fixed, improved or expanded to meet your requests!
Trails and Paths, especially connections.
You are big fans of trails and pathways! This is not surprising as trails and pathways become more popular and important across the nation. Consider this comment from Randy Martin, founder of Trailscape, Inc.:
"With the emphasis on health and fitness in today's society, trails are becoming just as important as streets and sidewalks in our communities. Offering people a place to walk, run or ride that encourages them to connect with nature is a valuable benefit that is relatively inexpensive to provide." (source, National Trails Training Partnership)
Your Park District provides approximately 30 miles of trails and pathways for your enjoyment. And, just as Mr. Martin suggests, the Park District trails provide a nice, close connection to nature.
Many of you know of the trails that have been around for many years, such as the Grant and Bill Yeck nature trails; Oak Grove and Schoolhouse paths; and, the Iron Horse Trail, to name a few. Since you told us how important this is to you, the Park Board has generated the following trail and path expansions and improvement efforts:
Have more thoughts or suggestions on where to put trails and paths? Let us know. We are listening!
Read previous installments of this series: