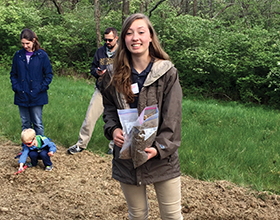 Hannah is a busy freshman at Centerville High School. In between studies and babysitting, she finds time to volunteer for the Centerville-Washington Park District and the Humane Society! In her free time, Hannah enjoys painting, photography, hiking, bike riding, acting and the theatre. She has also been playing the piano for nine straight years!
"I like volunteering for the Park District because I enjoy leading the children in social activities, helping them to learn while having fun together," says Hannah.
Hannah is a great help to CWPD staff with programming for children and adults!
The Centerville-Washington Park District would like to thank all volunteers for giving their time and talents to our community! If you are interested in becoming a volunteer, please contact Volunteer Coordinator Ginger Clark.
Learn more about volunteering at the Centerville-Washington Park District >