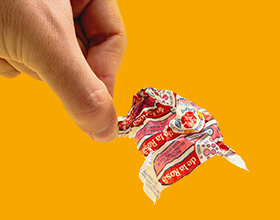 Research shows that in the United States alone, more than 600 million pounds of candy are purchased each year for Halloween. The vast majority of candy wrappers end up in landfills due to the inability by most curbside recycling programs to recycle them.
The Centerville-Washington Park District is participating in Rubicon's Trick or Trash™ program, so you don't have to trash those candy wrappers and doom them to an eternity in a landfill!
Bring your candy wrappers to Activity Center Park by November 6 and we will send them out for recycling. You can place your wrappers in Bin C (C for Candy!) near the community room entrance.
Activity Center Park is located at 221. N. Main St. in Centerville.