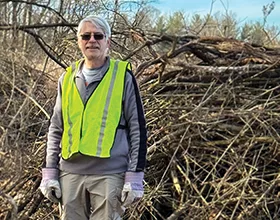 Shane was born in Mississippi. In 1977 his parents settled in Ohio and he moved to the Centerville area in 1995. At the time, his hobbies were computers, electronics and driving in time-speed-distance road rallies. Anything but exercise!
Then Shane purchased a hybrid-style bike from a friend and started riding the bike paths popping up in the area. He eventually got hooked on mountain biking and helped build the Metroparks Mountain Bike Area (MoMBA). He focused on removing invasive honeysuckle from the trail corridor.
Shane joined an orienteering club in 2013. It got him off of trails and into the woods. He continues mountain biking, but has added hiking and trail jogging to the list. He enjoys following old fence rows and is excited when he finds an old, rusting fence post in the middle of a wooded area! Orienteering has taken him to parks outside of Ohio where he was astounded to see forests completely empty of honeysuckle! Only tree trunks limited the view.
"I enjoy volunteering with CWPD to help complete work the park would otherwise not even get to begin. Parks do not have the personnel or money to do it all! As a bonus, the work usually supplies an opportunity for exercise. Exercise while doing something interesting doesn't seem like exercise!" Shane says.
In the last year alone, Shane has spent more than 300 hours removing invasive honeysuckle from Bill Yeck Park!
The Centerville-Washington Park District would like to thank Shane, and all volunteers for giving their time and talents to our community! If you are interested in becoming a volunteer, please contact Community Engagement Coordinator Ginger Clark at 937-433-5155 x234 or gclark@cwpd.org.