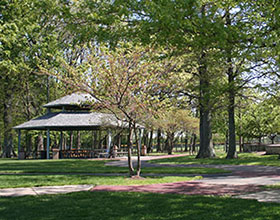 Perfect for birthday parties, graduation parties, family reunions and more, large group shelters are available in eight of the Centerville-Washington Park District community parks. Reservations for the 2023 calendar year may be made beginning at noon on Tuesday, January 3.  
View the large group shelters and reservation fees >
Shelters can be reserved with a credit card payment online or by cash or check in person during office hours (Monday – Friday, 8 a.m. – 3:30 p.m.). Reservations are not available by phone; however, please call us if you have any questions! We can be reached at 937-433-5155.
Shelters are available for use on a first-come, first-served basis when not reserved.