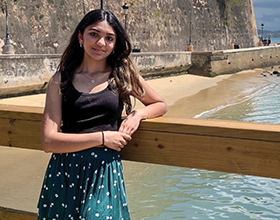 Eshita has grown up in three different countries! Her family moved to Centerville in 2008 and Eshita is now a junior at Centerville High School.
She has been involved with the Centerville-Washington Park District for many summers, she and her brother having attended summer camps since they were small children. As Eshita got older and spent more time at camp, she was able to do things like tree climbing, archery and adventure challenges, which made camp even more fun for her. She loved the volunteers that interacted with the campers and she knew she wanted to be like them when she was older. That's how she started volunteering for CWPD!
Eshita has now been a CWPD volunteer for two years and has logged over 120 hours of service! She has assisted with a myriad of programs and events. Some of her favorites are Caterpillar Nanny, Crafting Club, Bubble Fun Run and YoGlow. She loves going on hikes, taking photos and organizing events. Eshita is happy to be able to spend time doing the things she loves while volunteering for CWPD.
"I have learned so much through volunteering. My patience, responsibility, persistence and social skills have all improved. I have learned how to identify specific trees, plants and wildlife. I have a greater appreciation of nature because of my time with CWPD," says Eshita.
The Centerville-Washington Park District would like to thank Eshita, and all volunteers for giving their time and talents to our community! If you are interested in becoming a volunteer, please get in touch with Community Engagement Coordinator Ginger Clark at 937-433-5155 x234 or gclark@cwpd.org.