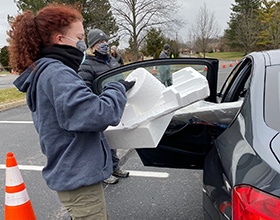 Ohio Parks and Recreation Association (OPRA) has announced its 2021 Annual Awards of Excellence winners. The Centerville-Washington Park District (CWPD) won the first-place award in the environmental and interpretive category for a Styrofoam Recycling Event held at Activity Center Park in January.
The event, the first of its kind in the region, was a collaboration between the City of Centerville, the Centerville-Washington Park District, Eco Development and Montgomery County Environmental Services. Boy Scouts of America Troops 515 and 516 generously volunteered their time to staff the event.
People came from 34 different towns in the area to drop off their expanded polystyrene, more commonly known by the brand name Styrofoam. The event collected more than 1,000 pounds of Styrofoam, saving it from deposit in a landfill where it would remain for hundreds of years. According to reports from the Society of Environmental Journalists, Styrofoam can take up to 30% of the space in some landfills. Recycled Styrofoam is made into products like outdoor furniture, surfboards, picture frames, seedling containers and coat hangers.
"We were in the throes of the pandemic and wanted to collaborate with our partners on an uplifting project to serve our community while keeping people safe. We were thrilled when the cars started arriving for our drive-through drop-off. It was clear we were addressing a real need. It's an honor to be recognized by OPRA, and we will carry the excitement of the award with us as we gear up for our next event," said Pam Gromen, Centerville-Washington Park District Program Assistant.
The next Styrofoam Recycling Event at Activity Center Park, 221 N. Main St. in Centerville, will be held on January 8, 2022, from 9 a.m. to 1 p.m. Styrofoam will be collected via contactless drop-off — you will not even need to get out of the car. Food containers will not be accepted. All Styrofoam must be clean and should not have stickers or tape attached.
"We hope families will hold onto the packing material they may have left over after the holidays," said John Woodman, Montgomery County Environmental Services Program Specialist. 
The OPRA Annual Awards of Excellence will be presented at the association's annual conference in February 2022 in Sandusky, Ohio. One first place award winner will be presented with the 2021 Governor's Award for Parks and Recreation, a "best-in-show" award which includes a $500 contribution to the parks and recreation foundation of the agency winner.
"Parks and recreation professionals throughout Ohio work every day to improve the quality of life of the people they serve," said OPRA Executive Director Woody Woodward. "This effort is a shining example of that kind of work, and we are pleased to be able to present this award."
A panel of parks and recreation professionals from around Ohio judge the OPRA Awards of Excellence.