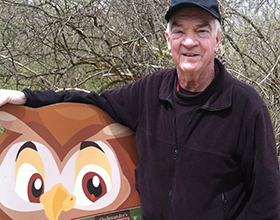 National ParkRx Day is Sunday, April 29. This growing movement encourages everyone to see park visits as important to health and wellness. Leading up to National ParkRx Day, we are featuring members of our community who have seen their health and well-being improved by being active in their parks. Centerville resident Tom McGavick is the second in our series of profiles!
How do you spend your time in the parks that most affects your health and well-being?
"Many years of walking twice a week as part of Hike for Your Health."
What types of improvements have you seen in your health and/or medical tests that you feel were a result of being in the parks?
"Walking twice a week helped me to know my strengths and weakness in my overall health. Not being able to walk as usual made me check out my heart condition with my heart doctor which lead to a stent in 2015 and five-bypass surgery in 2018. If I had not been walking twice a week, I may have had a heart attack. Walking in the parts is fun and the folks who walk are really special and fun to be with each week."
What health benefits have you experienced from outdoor exercise that you have not seen from indoor exercise?
"Being out in the fresh air and enjoying the parks is great fun and lifts your spirits. Being with great company walking is worth looking forward to each week."
Which parks are your favorite(s)? Why?
"Each park is unique. Being off trail is always a challenge. I have no favorite. I like them all."
Do you have any additional thoughts or comments you would like to add?
"Hike for Your Health and the other workout programs are really special. It gets you going twice a week, or more often. It makes the day special and delightful. I highly recommend the park health programs. They have made a difference in my life and especially my heart health."
Review the CWPD summer newsletter and find a fitness program to join! >