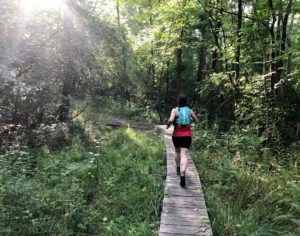 National ParkRx Day is Sunday, April 29. This growing movement encourages everyone to see park visits as important to health and wellness. Leading up to National ParkRx Day, we are featuring members of our community who have seen their health and well-being improved by being active in their parks. Andréa Van Sickle, frequent CWPD program participant and co-leader of the Dayton chapter of Moms Run This Town, is the first in our series of profiles!
How do you spend your time in the parks that most affects your health and well-being?
"I have been running trails since 2013, participated in Stroller Strength and often hike the trails with my kids and attend other fun, and often educational, programs."
What types of improvements have you seen in your health and/or medical tests that you feel were a result of being in the parks?
"My entire life I had tachycardia (fast resting heart rate), battled fluctuations in weight after age 23 and had an obese BMI as well as issues with "impaired glucose." Ever since I've been able to run (from a change in diet), I've been lucky enough to have access to many trails and park programs with CWPD. I no longer need beta blockers, as my heart rate went from tachycardia to athletic induced bradycardia (very common for runners), my weight has been at a healthy BMI and I no longer take medications for my glucose issues."
What health benefits have you experienced from outdoor exercise that you have not seen from indoor exercise?
"I feel being outdoors cannot be replaced by indoor activities. I find peace and calm in the sounds of nature – from the birds' morning songs to the patter of the rain hitting the leaves around me. I embrace the cool water in my shoes at river crossings, the smell of the different seasons, the welcomed interruption along the trail of an animal going about its day. It is a break in the modern day hustle and bustle. Being in nature has a positive effect on my mental health."
Which parks are your favorite(s)? Why?
"Bill Yeck Park and Grant Park are my favorites! Both parks offer some challenging hills to run up, beautiful river crossings as well a variety of trail paths to change up my route."