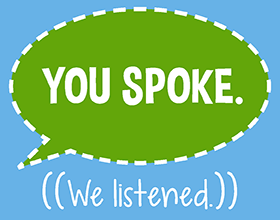 Your Centerville-Washington Park Board is serious about providing the park and recreation opportunities you want. In 2015, a large sampling of residents provided us with lots of great feedback. Then in late 2016, we conducted another survey to get more of your ideas and opinions. We supplemented the survey with citizen interviews, focus groups and public meetings. Thank you to everyone who participated!
We would like to share the many improvements that are a direct result of your input. So, every two weeks for the remainder of the year we will be posting a short message about what's been added, fixed, improved or expanded to meet your requests!
Everyone Should Enjoy Parks
An architect once said, "we are all only temporarily able-bodied."
The Board and staff at your park district understand that many residents now, or in the future, have differing abilities to access parks and programs. So, in 2015, the District updated its Americans with Disabilities Act Transition Plan. Put simply, this means we plan to systematically and methodically remove barriers to parks or programs.
There's a lot to the plan. It has hundreds of recommendations and requirements. But, as the old saying goes, we'll eat the elephant one bite at a time. So, what's been happening?
At a 2016 neighbors input meeting about Forest Field Park renovations, neighbors asked for a paved trail loop in addition to the planned unpaved trails. Not everyone can negotiate a turf, gravel or mulch trail. That paved loop was finished in November. The new addition has made large special events like the December 1 Luminary Walk inclusive for all mobility needs.
The two newest community park playgrounds, Robert F. Mays and Iron Horse Parks, feature an all-accessible safety surface. It is just as safe as mulch, but it is much easier to navigate. The playgrounds also feature play apparatus for children of all abilities.
Trip hazards are of particular concern to people with mobility challenges. This year, the Centerville-Washington Park District spent $30,000 to remove dozens of potential trip hazards and level discrepancies at Activity Center, Oak Creek South, Oak Grove, Schoolhouse and Yankee Parks.
We have added adaptive archery programs to the program lineup, in addition to forming a partnership to offer therapeutic equestrian programs.
Implementation of the ePACT Network has allowed us to collect medical information and work with families on a case-by-case basis. This has helped us accommodate needs, making our programs more inclusive for all abilities.
Making the community's parks accessible to all is a key priority of the park district. While not every part of every park can be fully accessible, it is our desire to make every type of experience available to all. Suggestions and ideas are most welcome. Sometimes we can't see the forest for the trees. If you have a thought to help make any part of the district more accessible, please let us know. If you'd like to see the ADA transition plan, please ask!
Read previous installments of this series: