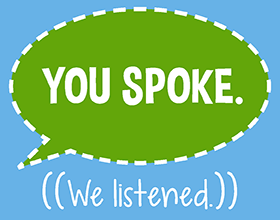 Your Centerville-Washington Park Board is serious about providing the park and recreation opportunities you want. In 2015, a large sampling of residents provided us with lots of great feedback. Then in late 2016, we conducted another survey to get more of your ideas and opinions. We supplemented the survey with citizen interviews, focus groups and public meetings. Thank you to everyone who participated!
We would like to share the many improvements that are a direct result of your input. So, every two weeks for the remainder of the year we will be posting a short message about what's been added, fixed, improved or expanded to meet your requests!
Overwhelming Approval of Levy Renewal
In a democratic system, there is no more powerful communication vehicle than the ballot box. On November 7, more than 12,000 Centerville and Washington Township residents voted YES to renew the tax levy that provides the lion's share of funding for the District. That was 78.2% of the votes cast!
Because votes are simple yes or no, we can't be sure why so many people voted yes in support of the Park District, but we'll make some assumptions based on what you've been telling us over the past few years:
You really like family-oriented events—we've added several since 2015.
You like fitness and wellness opportunities in your parks—those have about doubled!
"More evening and weekend programs, please," you said. About 2/3 of this winter's programs will be offered in the evening or on Saturdays!
Adamantly, you asked for more natural areas and for the preservation of natural habitats. CWPD added 30 acres of pollinator gardens featuring native, flowering plants; and, with a State grant picking up 75% of the tab, we added more than 33 acres of natural habitat!
We hope that it's correct to interpret the show of support on election day as affirmation that the District is delivering what you want, when you want it; where and how you want parks and recreation services. Truly, the Park Board and its professional staff listen when you speak. Together, we all enjoy a park system that is second to none.
That said, we are not resting on our laurels. Watch for significant, additional park improvements and fun and educational programs next year! Meantime, keep those comments and suggestions coming!
Read previous installments of this series: