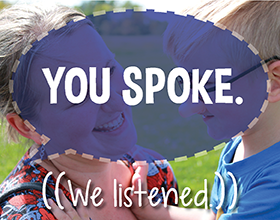 Your Centerville-Washington Park Board is serious about providing the park and recreation opportunities you want. In 2015, a large sampling of residents provided us with lots of great feedback. Then in late 2016, we conducted another survey to get more of your ideas and opinions. We supplemented the survey with citizen interviews, focus groups and public meetings. Thank you to everyone who participated!
We would like to share the many improvements that are a direct result of your input. So, every two weeks for the remainder of the year we will be posting a short message about what's been added, fixed, improved or expanded to meet your requests!
Quality Family Time.
Saturday, September 16, over 500 people came to the BIG Backyard Party at Robert F. Mays Park! This was the second year for the family event. In 2016, you told the Park District that you love family events, programs and outings. At the BIG Backyard Party, we asked some attendees to give feedback about a variety of park services. No surprise, once again family events was a top choice!
Your Park District hears you, and has continued with and added even more family programs and events. Just take a look a sampling of the family events available to you from season to season: 
Community BIG Backyard Party
Dressed to the K-Nines
Family Adventure Day with Washington Township Recreation Center
Family Celebration of National Hunting and Fishing Day
Fall Family Fun Night
Family Recess
Family Storytime Yoga
Food Truck Trek
Grandparents Sundae Funday
Ho! Ho! Ho! Let's Play in the Snow!
Ice Sculpture Demonstrations
Laser Battle
Luminary Walk
Night Glow Scavenger Hunt
Play S'More with Town Hall Children's Theatre
Pop-Up Park Challenges
Preschool & Family Campouts
Silver Screen Under the Stars
Strong Man Challenge & Strong Mom Challenge
Teddy Bear Picnic
We will continue to deliver multiple opportunities for you to spend quality time with your family members of all ages! If you have an idea for a family program, don't keep it to yourself, let us know about it! Maybe we can make it happen!
Read previous installments of this series: