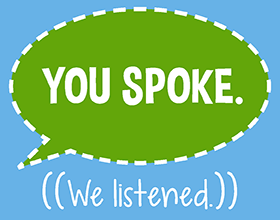 Your Centerville-Washington Park Board is serious about providing the park and recreation opportunities you want. In 2015, a large sampling of residents provided us with lots of great feedback. Then in late 2016, we conducted another survey to get more of your ideas and opinions. We supplemented the survey with citizen interviews, focus groups and public meetings. Thank you to everyone who participated!
We would like to share the many improvements that are a direct result of your input. So, every two weeks for the remainder of the year we will be posting a short message about what's been added, fixed, improved or expanded to meet your requests!
Nonresident fees stretch your tax dollars.
True to our community's "warm and cheerful" nature, our residents welcome people from other towns and communities to their parks. While you told us that nonresidents are welcome, you also said they should pay a fair share of program costs. A large majority of survey respondents said a fee for nonresidents would be fair to compensate for the taxes paid by residents.
You spoke and the Park Board listened, and acted. Late in 2015, the Board adopted a fee policy that specifies charging a nominal fee for nonresidents to participate in many Park District programs and activities.
Nonresidents seem to agree with the fairness of the fee, as well. Since implementing the policy, 2,379 nonresidents have participated in programs and activities. Their fee payments have totaled more than $24,000 – money used to stretch your tax dollars!
Taxes paid by residents support the care of parks and amenities. Also, these public funds pay for most of the planning, staff and supplies for hundreds of activities. The nonresident fees ensure that guests who live outside the District are welcome to participate but contribute a small portion toward costs.
Keep bringing your friends and family from outside the District. Not only are we warm and cheerful, we are welcoming, too!
Read previous installments of this series: