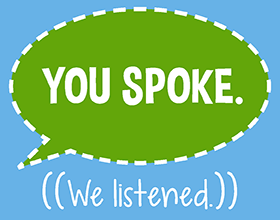 Your Centerville-Washington Park Board is serious about providing the park and recreation opportunities you want. In 2015, a large sampling of residents provided us with lots of great feedback. Then in late 2016, we conducted another survey to get more of your ideas and opinions. We supplemented the survey with citizen interviews, focus groups and public meetings. Thank you to everyone who participated!
We would like to share the many improvements that are a direct result of your input. So, every two weeks for the remainder of the year we will be posting a short message about what's been added, fixed, improved or expanded to meet your requests!
Shade and dogs: two of your favorite things!
There is nothing quite as nice as relaxing in the shade. By far the most requested park improvement, according to the 2016 survey, is more shade in your parks! Your comments suggested the shade could come from trees or shade structures. Since we learned of your preference, we have been diligent about adding plans for shade. The first shade structures went in at the Dog Park at Oak Grove in 2016. Followed by the shade canopy at the Oak Creek South Park skatepark you see as you drive past on Rte. 725. The new playground at Robert F. Mays Park has a shade canopy over the central climber. This fall and winter, Iron Horse and Forest Field Parks are both getting new playgrounds. Both will have shade structures incorporated!
While fabricated shade structures are good for casting shadows, nothing beats a shade tree. In the past few years, the Park District has planted hundreds of trees. This fall, we will plant at least 100 more trees! Sadly, the emerald ash borer has killed thousands of ash trees in our area. Some of the ash trees had provided nice shade in many of your parks. We are replacing those trees as quickly as possible.
Next year's budget will include allocations for additional shade trees and shade structures!
You also asked us to improve the Dog Park.
People love the dog park! In fact, dogs and their people were loving it to death! The natural grass could not keep up with the high traffic. So, as most dog park visitors know, the Park District added a third fenced area. This allows one area to always rest and recover, while the dogs romp in the other two. A gravel strip along the fences reduces the chance for muddy runs.
Thank you for your input. It is only with resident input and feedback that the Park District can put resources where it is most important to you. Keep your suggestions coming!
Read previous installments of this series: