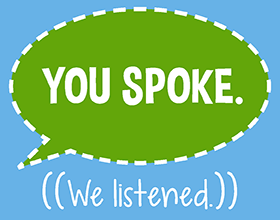 Your Centerville-Washington Park Board is serious about providing the park and recreation opportunities you want. In 2015, a large sampling of residents provided us with lots of great feedback. Then in late 2016, we conducted another survey to get more of your ideas and opinions. We supplemented the survey with citizen interviews, focus groups and public meetings. Thank you to everyone who participated!
We would like to share the many improvements that are a direct result of your input. So, every two weeks for the remainder of the year we will be posting a short message about what's been added, fixed, improved or expanded to meet your requests!
Residents asked for more environmental and nature-oriented classes and programs, and we're delivering!

"Study nature, love nature, stay close to nature. It will never fail you." ~ Frank Lloyd Wright
Perhaps our residents think like the renowned architect, Frank Lloyd Wright? Whatever your motivation, your Park District is happy to deliver more and more nature-related opportunities for you to enjoy.
Since you requested it, environmental and nature programs have expanded by 20 percent!
And, it's not only at park programs where we teach about nature. Did you know that Park District environmental programs reached more than 2,200 schoolchildren in 2016? Every Centerville City School District third-grader learns about nature with a classroom visit by the CWPD outreach team!
Environmental education goes beyond birds, bees and flowers. In the past two years, we've added classes that address recycling and re-using "throw away" materials, such as glass bottle etching, organic washcloth knitting, STEM Camp on renewable energy, green cleaning classes and a rain barrel workshop.
Here is a longer list of new environmental and nature programs we've added at your request!
Archeology Dig
Bat Watch
Birding Basics
Build a Birdhouse
Cairn Hike
Chirp 'n Chatter
Create a Terrarium
Creek Week
Earth Day Service Project
Family Nature Play
Garden-ology
Hike with CWPD
Homegrown Luffas
How to Raise a Wild Child Book Discussion
Jungle Sssscales
Light's On/Light's Out program
Nature's Alphabet Hunt
Nocturnal Nature Series
Pollinator Workshop
Pull Your Weight (of Garlic Mustard) Challenge
Starry Night
Ultimate Bug Challenge
Wilderness Shelter Building
Wildlife CSI
Wonderful Wildflower Photography
Yes, you can definitely Find Nature in Your Community's BIG Backyard!
Want even more nature, environmental and outdoor programs? Let us know what you have in mind. We're here to hear, you might say!
Read previous installments of this series: