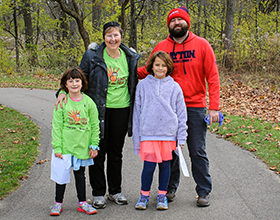 We need your help during this Thanksgiving adventure! Help us find missing turkeys during an interactive walk or hike on Saturday, November 18 at Forest Field and Bill Yeck Parks! There are two options for your quest, a one-mile paved/limestone walk or a 3.1-mile (5k) adventure hike. For either trek you complete, there will be a fun Thanksgiving-themed prize! The Great Turkey Trek is from noon – 3:00 p.m. Parking is located at Forest Field Park.
Attendees are encouraged to bring new, unopened, colorful socks for Shoes for the Shoeless. Athletic socks that fit children ages 5 and up are preferred.
This is a Tools to Trek program.
Registration is requested, but not required.
The Great Turkey Trek is sponsored by Dayton Children's Hospital.
In the event of inclement weather, a rain date is scheduled for Sunday, November 19. Check our homepage for weather announcements.