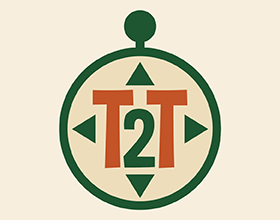 Get ready to explore! Attend Centerville-Washington Park District Tools to Trek programs to earn a FREE Trek Pack! Print a Tools to Trek tracking sheet and bring it to Tools to Trek programs to collect stamps. Stamps can only be collected in person at a participating program. If the program is canceled due to weather or low enrollment, stamps will not be awarded.
Once your sheet is full of stamps, turn it in to collect your prize!
Continue to complete tracking sheets and earn additional prizes!
Look for the Tools to Trek (T2T) symbol next to program descriptions in the latest Centerville-Washington Park News & Events brochure!
Preregistration is required for most programs.
Print your Tools to Trek tracking sheet (PDF)
Fall 2023 Tools to Trek programs:
Tuesday, September 5: Early Adventures
Wednesday, September 6: Let's Meet Up
Monday, September 11: Nature Fun, An Outdoor Family Storytime
Friday, September 22: Flying Squirrel Search
Saturday, September 23: Butterfly Survey
Monday, September 25: Nature Fun, An Outdoor Family Storytime
Saturday, September 30: Pumpkin Patch Dash Fun Run
Tuesday, October 3: Early Adventures
Wednesday, October 4: Let's Meet Up
Saturday, October 7: Butterfly Survey
Monday, October 9: Nature Fun, An Outdoor Family Storytime
Monday, October 23: Nature Fun, An Outdoor Family Storytime
Friday, November 3: Crunch Munch Hike
Wednesday, November 5: Let's Meet Up
Tuesday, November 7: Early Adventures
Saturday, November 11: Geology 101
Monday, November 13: Nature Fun, An Outdoor Family Storytime
Saturday, November 18: The Great Turkey Trek
Summer 2023 Tools to Trek programs:
Tuesday, June 6: Early Adventures
Monday, June 12: Nature Fun, An Outdoor Family Storytime
Thursday, June 15: National American Eagle Day
Saturday, June 17: Butterfly Survey
Wednesday, June 21: Fantastic Fireflies
Friday, June 23: THE Firefly Hike
Monday, June 26: Nature Fun, An Outdoor Family Storytime
Thursday, July 6: Let's Meet Up: Nature Playce
Friday, July 7: Light Up the Night! Fun Run
Monday, July 10: Nature Fun, An Outdoor Family Storytime
Tuesday, July 11: Early Adventures
Thursday, July 13: Box Turtle Shell-a-bration!
Saturday, July 15: Butterfly Survey
Monday, July 17: Sand, Silt and Clay; Oh My!
Tuesday, July 18: Wildlife Survey'
Wednesday, July 19: Oh Snap…ping Turtles
Thursday, July 20: Kings of the Creek!
Friday, July 21: Current Events
Sunday, July 23: National Vanilla Ice Cream Day Hike
Monday, July 24: Nature Fun, An Outdoor Family Storytime
Tuesday, August 1: Early Adventures
Saturday, August 5: Bubble-palooza Fun Run
Monday, August 14: Nature Fun, An Outdoor Family Storytime
Saturday, August 19: Butterfly Survey
Monday, August 28: Nature Fun, An Outdoor Family Storytime
Spring 2023 Tools to Trek programs:
Wednesday, March 1: Let's Meet Up, Nature Playce
Tuesday, March 7: Early Adventures
Monday, March 13: Nature Fun, An Outdoor Family Storytime
Monday, March 27: Nature Fun, An Outdoor Family Storytime
Monday, March 27: Nocturnal Nature Series, Dancing Woodcocks
Monday, March 28 – Monday, April 10: TREEster Egg Hunt
Tuesday, April 4: Early Adventures
Wednesday, April 5: Let's Meet Up, Nature Playce
Friday, April 7: Nocturnal Nature Series, Celestial Scavenger Hunt
Saturday, April 8: Beautiful Blooms Wildflower Tour
Monday, April 10: Nature Fun, An Outdoor Family Storytime
Saturday, April 15: Pollinators and Flowers Colorful Fun Run
Monday, April 24: Nature Fun, An Outdoor Family Storytime
Saturday, April 29: Butterfly Survey
Tuesday, May 2: Early Adventures
Wednesday, May 3: Let's Meet Up, Nature Playce
Monday, May 8: Nature Fun, An Outdoor Family Storytime
Saturday, May 13: Butterfly Survey
Saturday, May 13: World Migratory Bird Day
Monday, May 22: Nature Fun, An Outdoor Family Storytime
Winter 2022-2023 Tools to Trek programs:
Saturday, December 3: Winter Hiking Club
Tuesday, December 6: Early Adventures
Saturday, December 17: Winter Hiking Club
Tuesday, January 3: Early Adventures
Thursday, January 12: Nocturnal Nature Series, Asleep or Awake?
Saturday, January 14: Winter Hiking Club
Saturday, January 28: Winter Hiking Club
Tuesday, February 7: Early Adventures
Saturday, February 11: Winter Hiking Club
Saturday, February 25: Winter Hiking Club
Fall 2022 Tools to Trek programs:
Tuesday, September 6: Early Adventures
Monday, September 12: Nature Fun, An Outdoor Family Storytime
Saturday, September 17: Pumpkin Patch Dash Fun Run
Saturday, September 17: Creek Play
Saturday, September 24: Butterfly Survey
Saturday, September 24: Friends and Family Hike, Family Fitness Day!
Monday, September 26: Nature Fun, An Outdoor Family Storytime
Thursday, September 29: Nocturnal Nature Series, Plants at Night
Tuesday, October 4: Early Adventures
Sunday, October 9: Friends and Family Hike, Choose Your Own Adventure Hike
Monday, October 10: Nature Fun, An Outdoor Family Storytime
Friday, October 21: Tree-O-Cache Scavenger Hunt
Monday, October 24: Nature Fun, An Outdoor Family Storytime
Tuesday, November 1: Early Adventures
Friday, November 11: Nocturnal Nature Series, Coyotes
Monday, November 14: Nature Fun, An Outdoor Family Storytime
Thursday, November 17: Friends and Family Hike, National Take a Hike Day
Saturday, November 19: The Great Turkey Trek
Summer 2022 Tools to Trek programs:
Saturday, June 4: Friends and Family Hike, National Trails Day
Tuesday, June 7: Early Adventures
Monday, June 13: Nature Fun, An Outdoor Family Storytime
Monday, June 13: Creek vs. Pond
Tuesday, June 14: Wildlife Survey A
Wednesday, June 15: Wildlife Survey B
Thursday, June 16: The Hidden Gem
Friday, June 17: Creeking Rocks!
Saturday, June 18: Butterfly Survey
Friday, June 24: Nocturnal Nature Series Firefly Hike
Saturday, June 25: Pollinator Celebration Station
Monday, June 27: Nature Fun, An Outdoor Family Storytime
Saturday, July 2: Butterfly Survey
Tuesday, July 5: Early Adventures
Thursday, July 7: Let's Meet Up Nature Playce
Monday, July 11: Nature Fun, An Outdoor Family Storytime
Monday, July 18: Watershed Wonders
Tuesday, July 19: Water Power
Wednesday, July 20: Dragons and Damsels
Thursday, July 21: Creek Conservation
Friday, July 22: Fen-tastic Wetlands
Saturday, July 23: Friends and Family Hike, Vanilla Ice Cream Day
Monday, July 25: Nature Fun, An Outdoor Family Storytime
Thursday, July 28: Nocturnal Nature Series Luminescent Lessons
Tuesday, August 2: Early Adventures
Saturday, August 6: Butterfly Survey
Saturday, August 6: Wonderful Water! Fun Run
Sunday, August 7: Friends and Family Hike, National Friendship Day
Monday, August 8: Nature Fun, An Outdoor Family Storytime
Tuesday, August 9: Nocturnal Nature Series Night-Sense
Wednesday, August 10: Old-Fashioned Family Picnic & Fun
Monday, August 22: Nature Fun, An Outdoor Family Storytime
Spring 2022 Tools to Trek programs:
Tuesday, March 22: Wednesday, April 6: The Great Egg Hunt
Tuesday, March 29: Nocturnal Nature Series Dancing Woodcocks
Saturday, April 2: Pollinators and Flowers Colorful Fun Run
Wednesday, April 6: Friends and Family Hike, National Walking Day
Saturday, April 16: Beautiful Blooms Wildflower Tour
Saturday, April 23: Friends and Family Hike, Forest Flowers
Saturday, April 30: Butterfly Survey
Friday, May 13: Nocturnal Nature Series Night Migrants
Monday, May 16: Friends and Family Hike, Love a Tree Day
Saturday, May 21: Kids to Parks Day! Bubble Fun Run
Saturday, May 21: Creating a Wildlife Habitat
Saturday, May 28: Butterfly Survey
Winter 2021-2022 Tools to Trek programs:
Saturday, December 4: Winter Hiking Club
Saturday, December 11: Winter Hiking Club
Saturday, January 8: Winter Hiking Club
Wednesday, January 12: Nocturnal Nature Series, Sleeping Animals
Saturday, January 22: Winter Hiking Club
Saturday, February 5: Winter Hiking Club
Wednesday, February 16: Nocturnal Nature Series, All About the Moon
Thursday, February 24: Planning a Butterfly Garden
Saturday, February 26: Winter Hiking Club
Fall 2021 Tools to Trek programs:
Friday, September 3: Last Chance Creek Fun!
Thursday, September 9: Last Chance Creek Fun!
Saturday, September 11: Fairy and Gnome Home Festival
Thursday, September 30: Nocturnal Nature Series, Ohio Moths
Sunday, October 24: Howl-o-Weekend Spider Stroll
Saturday, November 13: Birds of Prey Hike and Play
Thursday, November 18: Nocturnal Nature Series, Flying Squirrels
Saturday, November 20: The Great Turkey Trek
Summer 2021 Tools to Trek programs:
Thursday, June 3: Pop-Up Ology
Saturday, June 12: National Get Outdoors Day Celebration
Thursday, June 17: Family Firefly Hike
Saturday, June 19: Pop-Up Ology
Saturday, June 19: Butterfly Survey
Monday – Sunday, June 21 – 27: Pollinator Week Trail
Saturday, June 26: Pollinator Week Celebration
Tuesday, June 29: Family Creek Hike
Wednesday, June 30: Family Creek Hike
Thursday, July 1: Pop-Up Ology
Saturday, July 10: Butterfly Survey
Monday – Sunday, July 19 – 25: History of Wildlife Trail
Monday, July 19: Family Creek Hike
Tuesday, July 20: Family Creek Hike
Friday, July 23: Search for Screech Owls
Saturday, July 24: Pop-Up Ology
Thursday, August 5: Pop-Up Ology
Saturday, August 7: Butterfly Survey
Saturday, August 21: Pop-Up Ology
Monday – Sunday, August 23 – 29: Night Singing Insects Trail
Friday, August 27: Night Singing Insects
Spring 2021 Tools to Trek programs:
Friday, March 12: Night Glow Scavenger Hunt
Thursday, April 1 – Thursday, April 8: April Fools Trail
Saturday, April 10: Beautiful Blooms Wildflower Tour
Saturday, April 17: Bat Appreciation
Saturday, April 17 – Sunday, April 25: CWPD Bio Blitz!
Friday, May 7: Nocturnal Nature Series Spider Search
Saturday, May 8: Migratory Bird Day Celebration
Winter 2020-2021 Tools to Trek programs:
Saturday, December 5: Winter Hiking Club
Tuesday, December 15: Nocturnal Nature Series Talking Trees
Saturday, December 19: Winter Hiking Club
Saturday, January 9: Winter Hiking Club
Friday, January 22: Nocturnal Nature Series Winter Meadows
Saturday, January 30: Winter Hiking Club
Saturday, February 6: Winter Hiking Club
Saturday, February 13: The Great Backyard Bird Count
Saturday, February 27: Winter Hiking Club
Fall 2020 Tools to Trek programs:
Friday, September 4: Last Chance Creek Fun
Saturday, September 19: Butterfly Survey
Thursday, September 24: Squirrel Science
Tuesday, September 29: Nocturnal Nature Series Ohio Moths
Saturday, October 3: Choose Your Adventure Hike Monarchs
Saturday, October 17: Local Animals Then and Now
Friday, November 13: Nocturnal Nature Series Blacklight Hike
Summer 2020 Tools to Trek programs:
June 4 – August 15: Ologies at Home
Saturday, July 25: Butterfly Survey
Tuesdays, August 4 – 25: Little Explorers
Saturday, August 22: Butterfly Survey
Spring 2020 Tools to Trek programs:
Saturday, March 21: Family Nature Workshop Wild Canines
Friday, March 27: Nocturnal Nature Series Dancing Woodcocks
Friday, April 17: Bat Appreciation
Saturday, April 18: Beautiful Blooms Wildflower Tour
Friday, April 24: Nocturnal Nature Series Frog Chorus
Saturday, April 25: Butterfly Survey
Friday, May 8: Nocturnal Nature Series Spider Search
Saturday, May 9: Migratory Bird Day Celebration
Saturday, May 30: Butterfly Survey
Winter 2019-2020 Tools to Trek programs:
Saturday, December 14: Winter Hiking Club
Saturday, December 14: The Rock Cycle
Sunday, December 15: Mammal Mania
Saturday, December 21: Winter Hiking Club
Wednesday, January 8: Nocturnal Nature Series S'mores Hike
Saturday, January 11: Winter Hiking Club
Saturday, January 18: Winter Hiking Club
Saturday, February 1: Choose Your Own Adventure Hike, Groundhog Day
Saturday, February 8: Winter Hiking Club
Saturday, February 15: Winter Hiking Club
Wednesday, February 26: Worm Composting 101
Fall 2019 Tools to Trek programs:
Friday, September 6: Nocturnal Nature Series Barred Owl Search
Saturday, September 7: Butterfly Survey
Sunday, September 8: A Day at Donnybrook
Wednesday, September 18: Trail Sense
Friday, October 4: Fall Family Camping
Saturday, October 19: Spider Search
Friday, October 25: Nocturnal Nature Series Flying Squirrels
Tuesday, November 5: Nocturnal Nature Series Coyotes