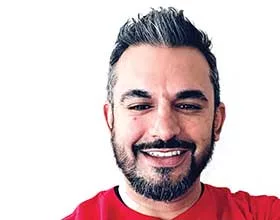 Jay is a first-generation American whose parents immigrated from India in the '70s. He was born and raised in Chicago, where he grew up to be a Cubs, Bears, Blackhawks, Bulls and White Sox fan. The other two staples of a native Chicagoan are Chicago-style hotdogs and Chicago-style pizza, both of which he enjoys tremendously. He and his wife Monica met during their pharmacy doctoral program at Shenandoah University. The Joshi family moved to Centerville in 2014 after their daughter Joya (6th Magsig) turned 4 and son Ahan (5th Weller) turned 2.
From an early age, Jay has enjoyed being outside. He didn't quite understand the traditional definitions of wilderness and conservation until he stepped foot into a forest planned by mother nature. "There is something wonderfully humbling about being present among naturally occurring phenomena." Growing up in a large metropolitan area limited his access to park systems. City living did not provide a wealth of greenery, even in the suburbs, so Jay split his time between his imagination and recreational sports. "It is easy to exist happily inside of four walls, but I would rather live outside of them."
Jay recenlty joined CWPD as a volunteer. He has volunteered for several outreach programs and has had the opportunity to discover more about parks and services.
"I honestly thought I was going to be the guy running refuse or prepping for landscape projects, which I would have enjoyed, too. But outreach and programming, combined with amazing team members I have had the privilege of working with, and the fact that all the events reflect natural themes, was truly a gift. The significance of stepping out of my home, my cocoon developed due to the pandemic, is that I remembered my home does not end within the four walls of my house. I was not only able to reconnect, but it was heightened because I didn't realize how much of a physical, mental and spiritual gap the pandemic created. CWPD is what I didn't know I needed to help me reexperience something I feared may have been lost. For that I am grateful."
The Centerville-Washington Park District would like to thank Jay, and all volunteers, for giving their time and talents to our community! If you are interested in becoming a volunteer, please contact Community Engagement Coordinator Ginger Clark at 937-433-5155 x234 or gclark@cwpd.org.