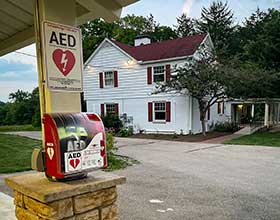 The Centerville-Washington Park District installed automated external defibrillators (AEDs) at two of our largest and most visited nature parks,
Grant Park
and
Bill Yeck Park
. The new AEDs are located at the Grant Park Kennard Nature Nook and at the shelter near the Bill Yeck Park Smith House, both popular hiking destinations and summer camp locations. We were able to install the AEDs thanks to a $4,000 grant awarded by the
Centerville-Washington Foundation
. The grant covered 50% of the total project cost. Firefighter Safe LLC installed and monitors the AEDs.
Cardiac arrest is a leading cause of death in the United States with more than 350,000 cardiac arrests occurring outside of a hospital each year. Less than 10% of those victims survive. Cardiac arrest can happen to anyone at any time. Having access to an AED increases a person's chance of survival by more than 50%.
Thousands of people visit Centerville-Washington Park District parks each week, and many of them are involved in strenuous activities such as athletic games, jogging, biking or other fitness pursuits. "Providing AEDs in parks is another way we support our residents in their fitness pursuits and provides a high level of service for our park visitors," said Ken Carter, Park Operations Manager. "We would like to thank the Centerville-Washington Foundation for their generous contribution and support of our community's health, wellness and safety."
The AEDs are housed in a temperature-controlled enclosure that is weather and vandal resistant. Signs placed above the units provide emergency information. The AED technology provides audible directions and walks the user through each step to save a life.
In 2017, the Centerville-Washington Park District
teamed up with youth athletic organizations
in the community to provide 10 AED stations for public use in eight community parks. One of those AEDs was used at Oak Grove Park to save the life of a soccer player who collapsed on the field. Having these life-saving devices readily available to park users is critical in the event of an emergency.
The Centerville-Washington Park District operates eight community parks, nine nature parks, and 34 neighborhood parks encompassing more than 1,060 acres in Centerville and Washington Township. For more information about the Centerville-Washington Park District, please call (937) 433-5155.
Media inquiries? Please contact
Carrie Dittman
, Marketing & Communications Supervisor at 937-433-5155.