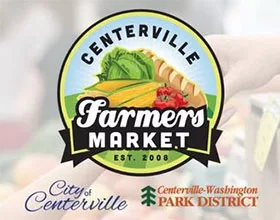 The Centerville Farmers Market will return this spring and summer in its new home at Activity Center Park!
The Centerville Farmers Market is sponsored by the City of Centerville and Centerville Washington Park District.  It will feature high-quality homegrown produce and products.
The market will operate every second Saturday from 9:00 a.m. – 1:00 p.m. beginning May 13 and ending on August 12 at Activity Center Park, 221 N. Main Street. (May 13, June 10, July 8, August 12)
Applications for vendors are being accepted now until April 13, 2023 or until vendor space is full.  Each vendor space is 18'x18′ and a vendor can reserve up to two spaces.
Download the Farmers Market Application >
Applications can be returned to City of Centerville Community Resources Coordinator Drew Simon at dsimon@centervilleohio.gov or by mail at 100 W. Spring Valley Road, Centerville, OH 45458.
Approved vendors will receive confirmation from the City of Centerville. Payment for booth space will be invoiced and collected by Centerville Washington Park District.