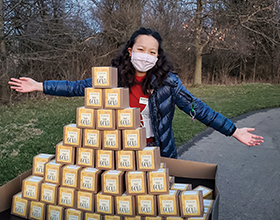 Sophia Wang started volunteering with the parks at the 2018 summer recreation camps. Since then, she has branched out into volunteering for fun seasonal events like Eggstravaganza.
Sophia loves helping with programs that have an artistic component! She volunteers outside of CWPD at Key Club and National Honor Society. She also runs Calligraphy Club at Centerville High School.
In her free time, Sophia likes to take her sister to Forest Field Park, peruse books at the library or crochet tote bags.
The Centerville-Washington Park District would like to thank Denise and Aidan, and all volunteers for giving their time and talents to our community! If you are interested in becoming a volunteer, please contact Community Engagement Coordinator Ginger Clark at 937-433-5155 x234 or gclark@cwpd.org.