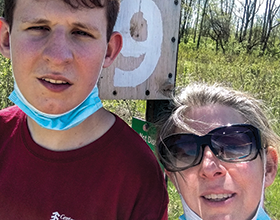 Aidan Teserovitch, 19, and his mom, Denise, began volunteering with the Centerville-Washington Park District's bird nest monitoring program in 2017.
Aidan, along with his mom, dad and brother, enjoys riding roller coasters. The family also enjoys hiking, biking and swimming. Aidan participates in Special Olympics track and rollerskating. He likes singing and drawing. He has also acted in the Brighter Connections Theatre Program. Denise and Aidan also volunteer with the Dayton Metro Library.
Denise is a physical therapist and also volunteers as a secretary for Good Works Farm, Inc., an inclusive community and farm-based recreational and vocational program in southwest Ohio. She enjoys yoga, scrabble, puzzles, reading, yardwork and crocheting.
The Centerville-Washington Park District would like to thank Denise and Aidan, and all volunteers for giving their time and talents to our community! If you are interested in becoming a volunteer, please contact Community Engagement Coordinator Ginger Clark at 937-433-5155 x234 or gclark@cwpd.org.