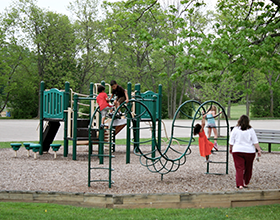 The Yankee Park playground is getting an upgrade! The Centerville-Washington Park District is interested in learning which of the proposed playground designs the community prefers. Goals previously identified for this project are: an ADA safety surface, an ADA specific element, swings, a separate structure for ages 2 – 5 and shade features. Please view all three options. Each option is displayed with two renderings and a video. We would appreciate it if you could also share the options with your children!
Thank you for taking the time to help shape your community's BIG backyard! We appreciate your feedback!
The survey will remain open until the morning of Wednesday, July 21.