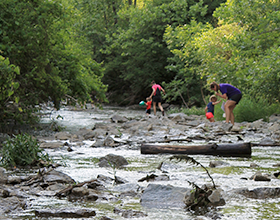 The Centerville-Washington Park District began work on the Grant Park master plan project in March 2020. Due to the COVID-19 pandemic, proposed community engagement sessions were modified to include an online survey and a virtual community meeting. The online survey was posted in late spring and remained open through the end of August. The virtual community meeting was held in early July.
Based on collective input from the community and in collaboration with park staff, the master plan project team developed a number of recommendations. The recommendations reflect the passion of the community, the enthusiasm of the park staff and the vision of a park that will better serve the community today and in the coming years.
The Board of Park Commissioners adopted the master plan at the January 11, 2021 board meeting.
The master plan recommendations fall into four categories.
Provide a Quality Trail Network.
Develop a balanced system of trails that offers a variety of experiences, provides inclusive opportunities to meet all skill levels, improves signage and wayfinding, and reduces future maintenance and repair costs.
Enhance the Two Primary Park Entrances.
Reimagine and enrich the Normandy Ridge Rd. and the Kennard Nature Nook entrances to create clearly identifiable and memorable arrival experiences that orient and draw visitors into the park and provide a sense of wonder and excitement for both new and existing park visitors.
Develop Quality Program Areas.
These areas will improve upon existing programs and support program expansion focusing on nature-based recreation, education, and wellness.
Advance Ecological Resiliency.
In cooperation with other agencies and organizations, continue efforts to manage and stabilize streambank erosion, improve water quality, control invasive species, and improve habitats for flora, fauna and wildlife.
Master plan recommendations set the stage for future Grant Park improvements to enhance the visitor experience and provide a prioritized guide for short- and long-term capital improvement budgeting. As priorities change, the improvement projects may shift, but overall, the master plan provides a vision that will assist us in our decision-making process.
We will focus efforts on the master plan in a four-phased approach over the next five years. In 2021, the Centerville-Washington Park District will concentrate efforts on improving trails, decommissioning rogue trails and tackling streambank erosion issues.
Review the full Grant Park Master Plan (PDF) >
We want to hear your thoughts about the Grant Park master plan! Please send your comments to mail@cwpd.org.
Grant Park is a beautiful and scenic 189-acre natural area that stretches along Holes Creek from Normandy Elementary School to McEwen Road. Developed on a former country estate, Normandy Farms, the park contains remnants of buildings and structures developed by Richard H. Grant, Sr. Today, the park is surrounded by residential neighborhoods, I-675, two schools and a retirement community. The park provides access to protected forests, meadows, prairies, wetlands and a meandering stream. A popular and extensive trail network connects the park's natural and historic features with amenities such as an indoor program space, natural play area, storybook trail, campfire circles, sled hills and picnic areas.