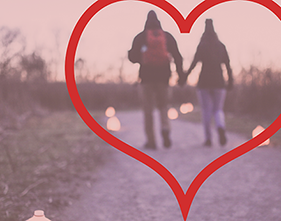 Enjoy a one-mile candlelit stroll through beautiful Bill Yeck Park!
We are excited to be hosting a special Valentine's Day Luminary Walk on Friday, February 12 from 6:30 – 8:30 p.m. at Bill Yeck Park, a 194-acre nature park located on E. Centerville Station Road. Celebrate your valentines of any age – this special event is for all ages!
A shorter paved path is available for those who prefer to skip the one-mile walk. The short loop is wheelchair and stroller-friendly! Free event parking is located at adjacent Forest Field Park, 2100 E. Centerville Station Rd.
The Valentine's Day Luminary Walk is free to attend, but preregistration is requested for event planning purposes. You may register online or call (937) 433-5155 to register.
To add to your Luminary Walk experience, complete a scavenger hunt during the event! Post a photo of your scavenger hunt board AND a photo of you at the Valentine's Day Luminary Walk in the Facebook event to be entered into a prize drawing! To be included in the drawing, it should be obvious that your photo was taken while you were at the event. You don't have to find all the items on the board to enter!
Attendees are encouraged to bring full-size toiletries or everyday household items for YWCA Dayton. They are the oldest women's organization in Dayton, providing the only domestic violence shelters in Montgomery and Preble counties. They address crucial needs in our community, including: domestic violence; homelessness; teen issues; affordable housing; racial justice; and self-sufficiency and personal development for women.
This event is weather dependent. Please check our homepage for any weather-related changes.
Please note, attendees must wear a face covering when a distance of 6 ft. cannot be maintained from other attendees who reside outside of your household. We value your safety and appreciate all attendees following social distancing guidelines.