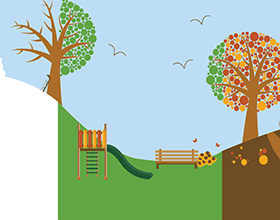 Did you know the Centerville-Washington Park District has 51 parks? The CWPD mascot, Owlexander, is taking a staycation this year and would love for you to check out all 51 parks with him! If you complete the challenge and log visits to all 51 parks, you will receive a "Picnic in the Park" prize pack which includes a CWPD picnic blanket, a CWPD kite and a My Favorite Muffin gift card!
Go at your own pace! You can complete the challenge quickly, or take your time. This challenge lasts until December 31, 2021!
CWPD staff will check for new registrations weekly, and instructions will be emailed to new participants the Monday following their registration.
For this challenge, you will print or pick-up a paper Owlexander mascot and you will also download an app to track your adventures. This information will be included in the confirmation email!
Registration is required. One prize pack per household.