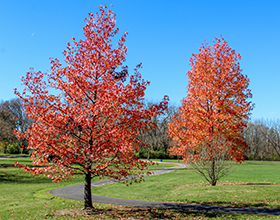 Ohio Parks and Recreation Association (OPRA) has announced its 2020 Annual Awards of Excellence winners. The Centerville-Washington Park District (CWPD) won a second-place award in the capital improvements project category (up to $1M) for the newest addition to the district, Hithergreen Park.
The creation of Hithergreen Park, 15 acres of land located at 5900 Hithergreen Drive, shows the permanent impact a group of concerned citizens can have on their neighborhood. For CWPD, Hithergreen Park was the puzzle piece filling the final gap in the long-term vision of the Park District's founders — to have a park within ½-mile of safe walking distance from every home in the community.
The new park stems from a cooperative venture between Washington Township and the Centerville-Washington Park District. The two agencies created a plan and applied for a grant to fund the majority of the project. In 2018, a $558,000 Clean Ohio Fund Green Space Conservation Program grant was secured to cover 75% of the purchase of the property, demolition of the former Hithergreen Center building and land restoration.
The next step was to engage with park neighbors in the park design process. CWPD held a public engagement meeting in November 2019 with almost 100 attendees. Park district staff walked park neighbors through a design thinking process to form a vision for the park's future layout and amenities.
A quarter-mile paved multi-use trail was recently added to the park. This week, CWPD will begin work to add a small shelter and a playground. Habitat management is ongoing with the removal of dead ash trees, drainage improvements, garden clean up and re-planting. CWPD will be planting a variety of trees and adding wildflower areas throughout the park. A nature playground is also planned. Neighbors have taken advantage of the Park District's 50/50 matching funds program to order additional trees and benches for the park.
"This was a great project to be involved with," said CWPD Project Manager Nick Meyer. "It was the patience and perseverance from residents that made this park a reality!"
The OPRA Annual Awards of Excellence will be presented at the association's annual conference in April 2021 at the Kalahari Convention Center in Sandusky, Ohio.
"Parks and recreation professionals throughout Ohio work every day to improve the quality of life of the people they serve," said OPRA Executive Director Woody Woodward. "This effort is a shining example of that kind of work, and we are pleased to be able to present this award."
A panel of parks and recreation professionals from around Ohio judge the OPRA Awards of Excellence.