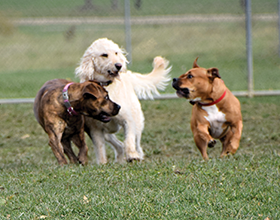 Discover a fun way to get together with your neighbors and their dogs this summer! In an effort to create more active and social outdoor spaces, we will rotate pop-up dog parks to various neighborhood parks every three weeks throughout the summer months. Temporary fencing will delineate the dog parks. Dogs are still required to be on a leash when they are outside of the designated fenced areas. Rules will be posted to help everyone respectfully utilize the space.
The first park visited by the Pop-Up Pup Park this summer was Quail Run Park. The Pop-Up Pup Park is tentatively scheduled to visit Little Mound, Concept and Stringtown Parks before the summer ends!
Pop-Up Pup Park Rules
This is an unsupervised dog park. The use of this facility is strictly at your own risk (ORC 2744). The Centerville-Washington Park District does not assume any responsibility for loss or injuries.
Dogs MUST be leashed outside the enclosed area.
Children 8 – 14 must be with an adult.
Current vaccinations and licenses are required.
Maximum of two dogs per adult visitor.
Dogs displaying aggressive behavior are to be removed immediately.
You are liable for injuries and damage caused by your dog.
Please clean up after your dog.
Prohibited from the Pop-Up Pup Park
Children 7 and under
Puppies under 4 months
Dogs in heat
Toys, treats, food
Smoking
Glass containers
Other animals
The Pop-Up Pup Parks are generously sponsored by the Centerville Rotary Club.