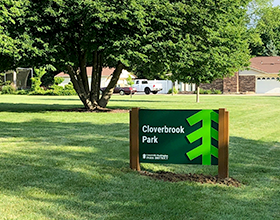 Pelbrook Park, a 5.5-acre neighborhood park near the eastern edge of the City of Centerville, has been officially renamed Cloverbrook Park. Park neighbors requested the name change during two public input meetings about future improvements to the park. The change was approved by the Board of Park Commissioners in August 2019 and a new park sign was installed in June 2020.
"During a public input meeting, we were surprised to learn that many neighbors of Pelbrook Park did not recognize Pelbrook as the park name. Neighbors have been calling the park 'Cloverbrook Park' for years because the park is on Cloverbook Park Drive. The neighbors were overwhelmingly in favor of changing the name and we were happy to make it official," said Carrie Dittman, marketing and communications supervisor for the Centerville-Washington Park District.
Cloverbrook Park will be receiving a paved walking path this summer, an improvement also requested at the public input meetings.