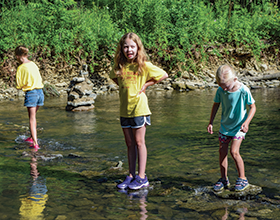 Thank you for your continued patience as staff awaited word from the State of Ohio on day camps reopening. We are pleased to announce the Centerville-Washington Park District will offer both in-person and virtual options for your children this summer! Virtual camp options will begin June 8 and in-person camp options will begin June 22.
Registration for both options will begin Tuesday, May 26 at 10 a.m. for residents and Monday, June 1 at 10 a.m. for nonresidents. Registration will be online only on the first day. Please note, the Centerville-Washington Park District offices are still closed. We will have limited phone coverage on May 26, but no walk-in hours.
While we are excited to offer in-person camp options this summer, they will not look like the camp programs you have experienced in the past. As part of Responsible RestartOhio, there are mandatory safety protocols for day camps. We are taking these very seriously in order to provide your children with the safest possible camp experience. While safety is our top priority, we want you to know that a fun camp experience is a very close second!
NEW CAMP PROTOCOLS
Group sizes will be set to a maximum of 10 people, including instructors. This staff to camper ratio will lower the total number of available camp openings.
Staff and campers must perform a daily symptom assessment before joining their camp group. Day camp providers must check the temperatures of all staff, children and adults upon arrival. If any individual has a fever of 100 degrees or higher, they will be sent home.
Hand washing will take place upon arrival, throughout the day, and upon leaving camp.
Staff and campers must wear masks in the following situations:

Upon arrival and pick-up. Parents must wear masks during these times, as well.
During the pre-camp temperature check/health assessment.
When physical distancing is not possible.

Campers should bring their own mask. Extra masks will be available if a camper's mask gets torn or dirty.
For safety reasons, masks will not be worn during active games and activities.
More details on safety and sanitation protocols will be included with a parent letter sent the week prior to your child's camp week.
IN-PERSON CAMP OPTIONS
Nature Day Camp, June 22 – August 7
Half-Day Camp, $44/week residents, $68/week nonresidents, 8:30 – 11:30 a.m., ages 5 – 12 OR
All Day Camp, $88/week residents, $136/week nonresidents, 9:00 a.m. – 4:00 p.m., ages 7 – 12

There are two Nature Day Camp locations: Bill Yeck Park, Smith House Entrance OR Grant Park, Kennard Nature Nook Entrance

Due to State of Ohio square footage requirements for indoor facilities, there will be no camp on days when rain is highly forecasted. Camp fees have been reduced by 20% to account for any weather cancellations. The Kennard Nature Nook and the Smith House will be used in the event of a weather emergency. Campers and staff must wear masks when 6 ft. distancing cannot be maintained. Camp themes available are Grossology, Rapids and Raptors, Adventure Racers and Bounding Around.
Recreation Day Camp, June 22 – August 7
$36/week residents, $56/week nonresidents
9:00 a.m. – noon, ages 5 – 11

Monday – Thursday at three different park sites: Iron Horse Park, Oak Creek South Park OR Yankee Park. There will be no camp on days when rain is highly forecasted.
Adventure Camp, July 6 – July 10 OR July 20 – July 24
$84/week residents, $134/week nonresidents, 9:00 a.m. – 3:00 p.m., ages 11 – 15
Age-appropriate adventures that include hiking, archery, games and challenges. Campers will meet at the Grant Park, Normandy Entrance. There will be no camp on days when rain is highly forecasted. There is no overnight with Adventure Camp this year.
FROM HOME OPTIONS
Summer Adventures to Go
$42 residents, $66 nonresidents, ages 3 – 12
Enough activity for approximately 3 hours per day, this is a week-long, remote nature-themed camp experience. Children will interact with counselors and other campers through videos and pictures on a secure website created for each camp group. Each morning a prerecorded wakeup video from his/her counselor will start your camper's day off! Virtual field trips, guest speakers, activities, crafts and games for your own yard/park visit. Choose from 9 weeks/themes. Campers will receive a backpack filled with all needed supplies, including a t-shirt. Campers only receive a t-shirt in their first backpack, not in additional weeks' backpacks. Backpack pick-up will be Thursday and Friday afternoon before the scheduled camp week. There will be a mixture of online and hands-on activities. Themes available are Sensory Stimulation, Winged Things, Wild Weather, Community ROCKS, Mammal Mania, Outdoor Olympics, Wonderful Water, Ancient Explorers and Adventure Racers.
RecKits
$5 residents, $8 nonresidents, recommended for ages 7 – 13, junior options recommended for ages 3 – 6
Each instructional kit will have a theme and will include approximately 3 hours of activity. Available for pick-up with supplies and instructions
Stepping Stones
$3 residents, $4 nonresidents, ages 3 – 4
Instructional kit for preschool-aged children available for pick-up with supplies and instructions. Registration has already started for Stepping Stones!
CAMP CANCELLATIONS
Unfortunately, we are unable to host the following camps we had originally planned for your children this summer:
Decoy Nature Art Camp
Fri-DAY Camp on the Farm
Preschool Play Yard
W.I.L.D. About Summer (Visit W.I.L.D. Child on Facebook. They will be announcing kits soon!)
Youth Archery Camp
More specific information about each available camp option and camp theme is posted on our registration website.