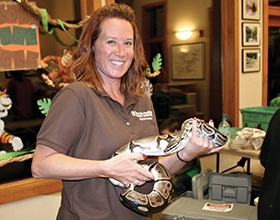 The word "hardworking" perfectly describes this Centerville resident! A graduate of the University of Dayton with a B.S. in Criminal Justice-Corrections, Cambra worked for Shelby County Children Services for two years and the Ohio Dept. of Rehabilitation & Correction for ten years. Following that, she owned and operated her own business, Cam's Commercial Cleaning, for 16 years before selling in 2015. Cambra, not being the type to rest on her laurels, then sought out the Centerville-Washington Park District as a place to devote her time in a meaningful way.
Cambra says she loves volunteering for CWPD "… because it allows me to participate in so many different programs and share my experiences with all kinds of people. I enjoy doing educational outreach programs in the schools and seeing the kids get excited about animals, nature and our amazing parks. I also enjoy volunteering with adult fitness programs and seeing people come together to be active and 'visit' with each other. I'm also always excited about helping at community events and being a part of the great opportunities that CWPD offers for fun, family involvement and education. It makes my heart happy to see kids getting outside, having fun and getting dirty!"
In addition to volunteering for CWPD, Cambra is also the co-coordinator of the Academic Volunteer Program at Tower Heights Middle School. She enjoys traveling, playing outdoors, reading, waterskiing, running, and spending time with her family. She is married to Mike, has one son, Matthew (13), who is also active in park district programs, and a dog named Dobby.
Learn more about volunteering at the Centerville-Washington Park District >
If you are interested in becoming a volunteer, please contact the volunteer coordinator, Ginger Clark, at 937-433-5155 or gclark@cwpd.org.