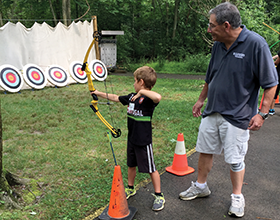 Four local agencies (Bellbrook Sugarcreek Park District, Centerville-Washington Park District, Kettering Recreation Complex and the Washington Township RecPlex) are teaming up for an afternoon of archery!
Join us Saturday, September 23 from 11 a.m. – 2 p.m. at Oak Grove Park for inflatable archery, vendors, a food truck and opportunities for basic archery classes on the range. Classes are every 30 minutes and will be first-come-first-served. Class registration is at the Centerville-Washington Park District tent.
Registration is not required but is recommended.