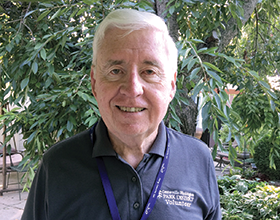 At 23, Bill Keegans left his home in Scotland and emigrated to Australia. As a software developer, Bill was working with Australia's largest company (BHP) when he applied for a position with NCR's Australian operation. Seven years later he was transferred to NCR headquarters in Dayton. As an International Marketing Director for NCR, Bill was constantly on the road and could often be found in Israel, Malaysia, South Africa, Japan, China and Thailand. He has lived in four countries and traveled to just over fifty!
"Volunteering came into my life when I met my dear wife, Miss Judith." Judith Keegans is a long-time CWPD volunteer and program coordinator. Over the years Bill has found himself in many volunteer roles: a singing ant, a fallen tree log, the Grant Park's original Mr. Grant and Mr. Rogers … slippers and all!
Bill is the "Around the World Chef" providing samples of the popular foods from the day's country of focus in the popular children's program. "It's amazing how much 15 ravenous kids can eat after school!"
Once retired, Bill expanded his volunteer activity beyond CWPD. For eight years Bill taught ESL to refugees and others needing help with the language. Currently Bill is a volunteer reader with the Goodwill Easter Seals Miami Valley Radio Reading Service. He is responsible for selecting and recording short stories for broadcast.
"I may have come late to volunteerism, but I couldn't imagine not being of help to the communities we serve," Bill says.
We would like to thank Bill, and all of our volunteers, for giving their time and talents to our community. If you are interested in becoming a volunteer please contact Community Engagement Coordinator Ginger Clark at 937-433-5155 or gclark@cwpd.org.