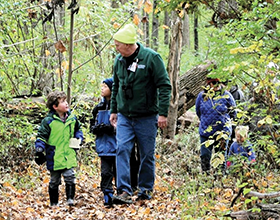 John is a life-long resident of the Dayton area, who graduated from Fairview High School and attended Wright State University. He retired from General Motors in 2006 and began his second career as a bus driver for Centerville City Schools.
The seeds of John's CWPD volunteerism began at the Aullwood Audubon Center, where as a docent he spent many hours with the wonderful naturalist, Paul Knoop, among others. It was there that he met his wife, Carol, and came to Centerville when she accepted the position of CWPD's first Program Coordinator in 1982. Carol got John involved right away. Over the years he has painted, planted, led Volunteer Naturalist Program walks, worked with scout troops, conducted school outreach programs, portrayed Richard Grant in a historical campfire program, played various roles in Underground Railroad programs, and chaperoned overnight campouts in Grant Park.
John's main volunteer focus of late has been birds and blooms: "I am honored to conduct many of CWPD's bird and wildflower hikes/programs. I truly enjoy sharing my love of the natural world. The best part of volunteering for CWPD is that it gives me a chance to interact with and give back to the community I've called home for 37 years."
We would like to thank John, and all of our volunteers, for giving their time and talents to our community. If you are interested in becoming a volunteer please contact Community Engagement Coordinator Ginger Clark at 937-433-5155 or gclark@cwpd.org.