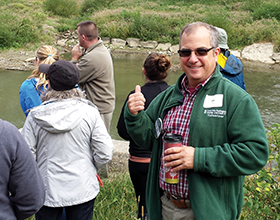 Joe first volunteered with CWPD in 2004 as a founding member of the Creating Community Connections task force. The task force planned and advocated for multi-use trail routes in the area. Joe was a bicycle commuter for many years and has been actively involved in mountain bike riding and racing for nearly 30 years.
His love of the outdoors began at an early age and was a nice fit with the park district's mission. Growing up in the Chesapeake Bay area of Maryland, Joe was a cross-country runner and Eagle Scout. His family traveled all over the country in an RV, leading to his appreciation of our country's natural wonders. He earned two degrees in Geography and Environmental Planning at Towson State University before entering the working world as an environmental consultant. Joe now spreads his knowledge of the environment as an instructor with the Air Force Institute of Technology.
Joe's personal goal for volunteering is to sign up for at least one program per month. "When the new program catalog is printed, I look through all of it and check my schedule to sign up for whatever I can," he says. He often leads night hikes and weekend programs. He can be found near the campfire whenever the program requires singing or making s'mores. He is always game for wearing costumes, including a cow, a raccoon, and even Owlexander! Joe leads an annual woodcock walk and has been known to imitate the bird's dance — staff has yet to catch that spectacle on video! Dancing Woodcocks is on Friday, March 29 this year if you want to catch the dance for yourself!
"I continue to come back over and over to help because the staff are always so friendly and inviting and thankful for the help." He encourages anyone with an interest to become a volunteer, saying "you will get more out of it than what you give."
Joe is married to his awesome wife and adventure supporter, Christine. They have three boys, all active scouters, including two Eagle Scouts and one on his way to earning the rank! In addition to his work with the park district, Joe is a scout leader with Troop 316 and is a board member and incoming President of the Kittyhawk Post of the Society of American Military Engineers.
The Centerville-Washington Park District would like to thank Joe, and all of our volunteers, for giving their time and talents to our community. If you are interested in becoming a volunteer please contact Community Engagement Coordinator Ginger Clark at 937-433-5155 x 234 or gclark@cwpd.org.