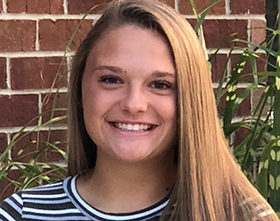 Hayley is a senior at Centerville High School. Outside of school, she spends time playing soccer and volunteering for the Centerville-Washington Park District and Dayton Children's Hospital.
Hayley has been a CWPD volunteer for two years, giving her time to Hidden Meadows Day Camp and other activities throughout the year.
She says, "I love to volunteer for CWPD because I plan to go into pediatrics and the park district offers opportunities to work with children. I also enjoy spending time outdoors — volunteering for CWPD allows me to do that!"
We would like to thank all volunteers for giving their time and talents to our community! If you are interested in becoming a volunteer, please contact Community Engagement Coordinator Ginger Clark at 937-433-5155 x 234 or gclark@cwpd.org.