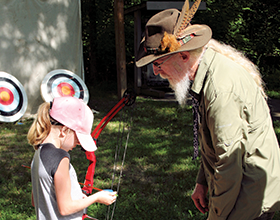 Tom's love of nature started developing when his parents bought a 245-acre dairy farm. Tom and his brother worked side by side with their dad for 20 years. What a life — working hard, going fishing and exploring the woods!
Bicycling was his major hobby for many years. After completing several bicycling tours, a group of friends decided on the granddaddy of all tours, biking across America! Back in 1990, they completed the coast-to-coast tour. It took them 53 long difficult days — but what memories!
Archery has been an interest of Tom's since childhood. About five years ago, he took a class on bow making and got hooked on making his own bows. That led him to check out the archery range at Oak Grove Park.
Tom says, "Most weeks, I spend at least five days a week at the range. Since I take advantage of the range, I felt like I needed to give back to the community. That is what brought me to volunteer for the park district. My favorite part of volunteering is helping with the archery programs."
We would like to thank all volunteers for giving their time and talents to our community! If you are interested in becoming a volunteer, please contact Community Engagement Coordinator Ginger Clark at 937-433-5155 x 234 or gclark@cwpd.org.