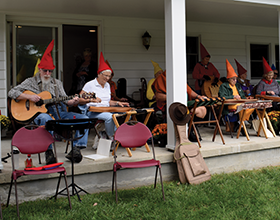 The Hithergreen Strummers are a Mountain/Lap Dulcimer group. This talented group of musicians has generously shared their talents with CWPD at events such as Fairy & Gnome Home Festival and the annual Luminary Walk, much to the delight of program participants!
They welcome new members to join them at their weekly meetings. Meetings take place at the Franciscan Center Banquet Room every Monday morning from 10 a.m. – noon. No experience is necessary. The group will be glad to help you get started!
The Centerville-Washington Park District would like to thank all volunteers for giving their time and talents to our community! If you are interested in becoming a volunteer, please contact Community Engagement Coordinator Ginger Clark.