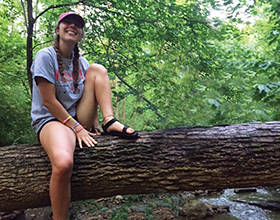 Megan is a student at Oakwood High School. She first became interested in nature through photography and exploring the woods. This passion led her to enroll in Centerville High School's environmental science class. Because of this class, she plans on studying environmental science in college. Hiking, walking, and exploring national parks are her favorite things to do.
Megan was introduced to the Centerville-Washington Park District because her environmental science class often holds classes in the parks. She feels the parks are a great classroom. These experiences led her to become an official youth volunteer for CWPD!
"I like to volunteer for the parks because I want to give back to them. It's important for kids to get involved with nature and their communities so they have a greater appreciation for the environment they live in."
The Centerville-Washington Park District would like to thank Megan, and all of our volunteers, for giving their time and talents to our community. If you are interested in becoming a volunteer please contact Community Engagement Coordinator Ginger Clark.