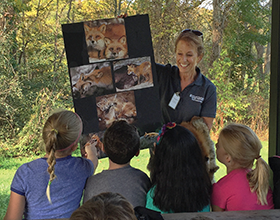 After teaching English for 34 years, Wendy retired from Tecumseh High School and began her career as a volunteer. She especially enjoys working with children.
In addition to volunteering for CWPD, Wendy volunteers at Carillon Park and Centerville City Schools. She has also volunteered at Five Rivers MetroParks, SICSA and the Humane Society of Greater Dayton.
In her free time, Wendy loves to hike, read, garden and travel with her husband to the National Parks. Her most exciting and challenging trip was to the Galapagos Islands.
Wendy says, "I love volunteering for the Centerville-Washington Park District! The people are enthusiastic, encouraging and so appreciative. I feel fortunate to have found such a wonderful opportunity."
The Centerville-Washington Park District would like to thank Wendy, and all of our volunteers, for giving their time and talents to our community. If you are interested in becoming a volunteer please contact Community Engagement Coordinator Ginger Clark.