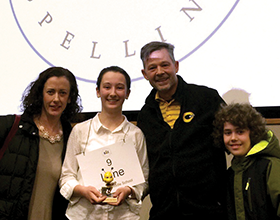 Youth Volunteer Lane Schnell was an immense help to CWPD this past summer, volunteering her time at Hidden Meadows Day Camp. No stranger to volunteering for the Park District, she and her Girl Scout Troop 32347 earned their Silver Award for a community service project during 2016/17 by putting in 50 hours of work for CWPD. The scouts assisted CWPD naturalist Katy Lucas in our seed nursery by harvesting, cleaning, and cataloguing the seeds, and then using those seeds to plant a pollinator habitat at Cherry Hill Park.
Lane remarked, "I like reading, watching TV, sewing and playing outside. Volunteering is really important to me, too, because I enjoy helping the community. My brother and I both love the day camps that CWPD runs, especially Adventure Camp. Earlier this summer, I competed in the Scripps National Spelling Bee in D.C. While I didn't win, I had an excellent time. Now I'm looking forward to high school and spending more time with my friends."
The Centerville-Washington Park District would like to thank all volunteers for giving their time and talents to our community! If you are interested in becoming a volunteer, please contact Community Engagement Coordinator Ginger Clark.
Learn more about volunteering at the Centerville-Washington Park District >