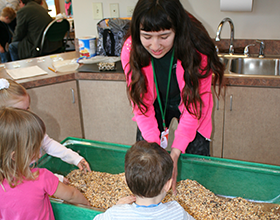 Volunteering runs in the Gonzalez family. Maribeth is no exception, having contributed a  whopping 225 hours of service to the Centerville-Washington Park District in 2016 alone! She's a homeschooled sophomore in high school. Maribeth has a keen interest in wildflowers, which has sparked a love of hiking. In her spare time, she likes drawing, Japanese video games and anime, and playing Dance, Dance  Revolution. She has the interesting and unique hobby of collecting and restoring vintage dolls from the 1960s and '70s!
Maribeth says, "I like volunteering for CWPD because I always enjoyed participating in their programs.  Now I can stay involved by helping younger kids enjoy the programs, too."
We are so pleased Maribeth chooses to spend her time helping with programs and camps! She's a fantastic role model for our young program participants.
The Centerville-Washington Park District would like to thank Maribeth, and all of our volunteers, for giving their time and talents to our community. If you are interested in becoming a volunteer, please contact Volunteer Coordinator Ginger Clark.