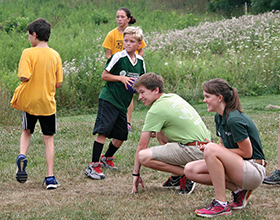 Nathan is a junior at Centerville High School. He has lived in Centerville almost his entire life, moving here when he was just one month old! He has four siblings, including a twin brother.
Nathan is a driven and motivated young man! He is a member of the National Honor Society and a founding member of the Ping-Pong Club at Centerville High School. Despite his strenuous schedule,  Nathan has managed to log an impressive 200+ volunteer hours with CWPD since the beginning of June!
"The Centerville-Washington Park District hosts summer programs that I have attended every summer for as long as I can remember, programs that I know and love. Eventually, I aged out of the summer camp program and had to find a new method of entertainment throughout the summer. I decided to return to the program as a volunteer, and through my experience volunteering for  Hidden Meadows Day Camp I was able to meet other great camp counselors. The most important aspect of volunteering for this program is spending time with the children — every week meeting  new campers and helping them make new memories!"
Learn more about volunteering at the Centerville-Washington Park District >
If you are interested in becoming a volunteer, please contact the volunteer coordinator, Ginger Clark, at 937-433-5155 or gclark@cwpd.org.